Cornerstone Praise and Worship Center is a home-grown church. The church was birthed in 1995 when a group felt that the Lord wanted more from us. At first, Cornerstone met in a mechanic's garage, moved to the high school auditorium, then moved to the school's gym, and finally moved into our current home, which was complete in 2005. The Lord raised up men and women from the community to care for the church. Because this was a new experience, God sent us help from all over the world. We have been blessed to be connected to Jim Hodges and the Federation of Ministries and Churches International. In addition, He sent us Godly men and women who had a heart for the church and our community. These people taught us, corrected us, guided us, and encouraged us. Through it all, we leaned on the Bible as our source for all we think, say, and do. Thus, we seek ministries that will help us grow but that will also bless our community.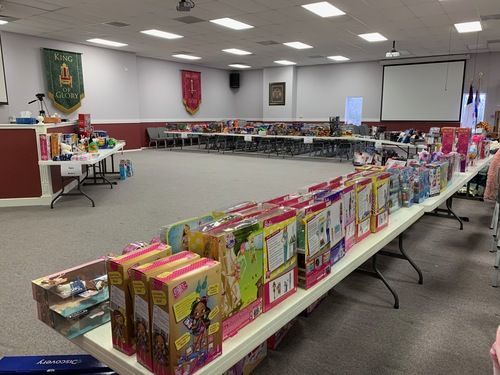 Over the years we have realized a simple but profound truth: we are to work our salvation each and every day. This speaks of a constant focus on strengthening our relationship with Jesus Christ and with using our gifts and talents to serve Him by serving others. The Lord has led us into such ministries as Jesus' Toy Box, where we purchase gifts for all ages and set them up in our sanctuary so parents can "shop" for their children: Night in Bethlehem, where the church in Coalgate "recreates" the town of Bethlehem at Christmas time to tell interactively the Christmas story; a community egg hunt, where the church in Coalgate hides between 5,000-7,000 eggs. Extending the vision means moving outside the walls of the church and going deeper into that relationship with Jesus. One could say our theme song is "I Refuse" by Josh Wilson. Paraphrasing: We don't want to live like we don't care. We don't want to say another empty prayer.
Oh we refuse to sit around and wait for someone else to do what God has called us to do ourselves. Oh we could choose not to move
But we refuse
We believe we are in a spiritual battle for our nation, our communities, and our families. We are facing many of the challenges about which Jesus warned us. We believe that a new move of the Spirit lies ahead that will equip the church to rise up in her true purpose and calling and return this nation to the Lord God. We believe this will take place on a local level, one heart at at a time. What lies ahead is daunting, challenging, and exciting.
Be a part of our story...
Join us every Sunday as we gather to worship together at 9:30 am and 10:45 am.